È un piacere poter finalmente condividere la line up completa del nostro secondo NoReason Fest. L'anno scorso ci siamo divertiti così tanto alla nostra festa di compleanno che abbiamo voluto farne un'altra, e quest'anno abbiamo anche raddoppiato!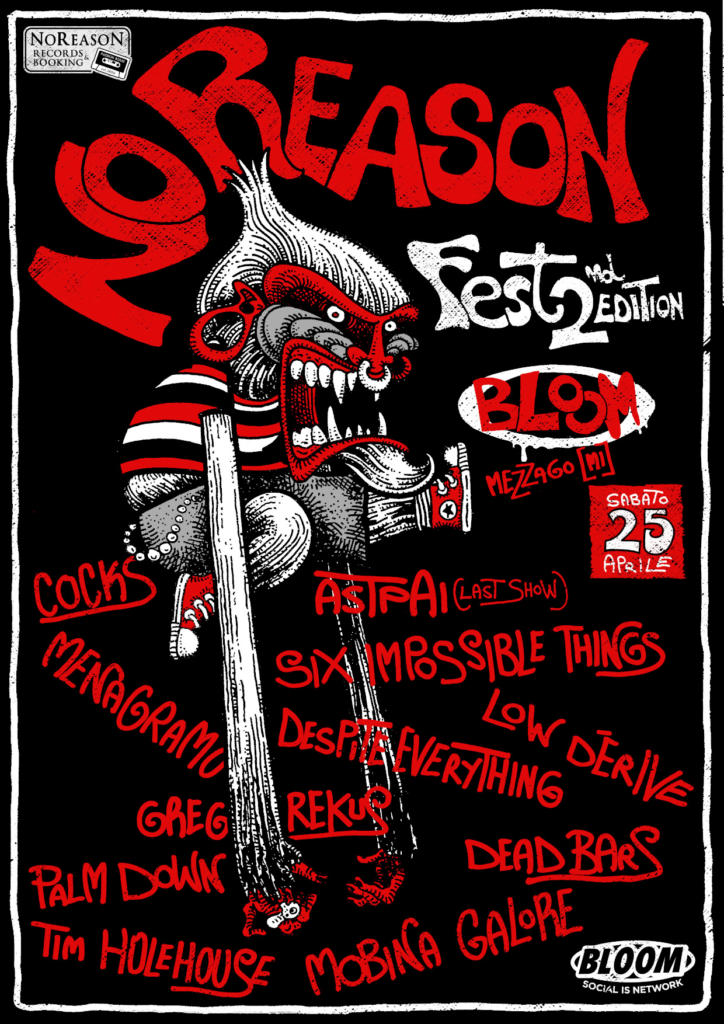 Segnatevi le date di venerdì 24 aprile e sabato 25 aprile 2020: il primo Pre-NoReason Fest si svolgerà nella cornice dell'incantevole Mare Culturale Urbano di Milano il 24 aprile, mentre la festa proseguirà il giorno seguente al Bloom di Mezzago, semplicemente un pezzo di storia della musica rock nel nord Italia.
PRE-NOREASON FEST @ Mare Culturale Urbano – Via Giuseppe Gabetti, 15, 20147 Milano (MI) Friday April 24th 2020
Dee Cracks (A)
I Like Allie (ITA)
Mobina Galore (CAN) *acoustic show*
The Enthused (ITA)
A dirla tutta crediamo che i Dee Cracks non abbiano bisogno di presentazioni, ma qualora aveste passato gli ultimi 12 anni su Marte, lasciateci dire che sono una delle migliori band punk-rock europee e noi siamo entusiasti che abbiano scelto di tornare in Italia per il nostro Pre-Fest.
A proposito di party, non sarebbe una festa NoReason senza un gruppo NoReason – ecco quindi gli Enthused, signori. Ben più che una band pop-punk anni Duemila, con le loro canzoni super melodiche sono il perfetto mix tra Blink-182 e sprazzi di hardcore melodico – davvero ok dal vivo!
Quanto ai nostri amici I Like Allie, il quartetto di Milano suona da ormai qualche anno il lato più emozionale del punk-rock con una musica onesta e accattivante. Sappiamo che uscirà a breve nuovo materiale e noi non vediamo l'ora di scoprire cosa hanno da dirci di nuovo sul palco.
Infine ecco la vera sorpresa del Pre-Fest, uno show acustico di Jenna e Marcia delle Mobina Galore. Il duo canadese torna in Italia dopo un annetto e inizierà a scaldare la situa per il nostro NoReason Fest 2 con questo acustico che si preannuncia focoso. I nostri cuori andranno via per un attimo…
Ma veniamo al sodo, ecco la line up dell'evento principale:
NOREASON FEST 2 @ Bloom – Via Eugenio Curiel, 39, 20883 Mezzago (MB) Saturday April 25th 2020
Astpai (A) *last italian show ever*
Dead Bars (USA)
Despite Everything (GRE)
Mobina Galore (CAN)
Low Dérive (ITA)
Cocks (ITA)
Tim Holehouse (UK)
Greg Rekus (CAN)
Six Impossible Things (ITA)
Menagramo (ITA)
Palm Down (ITA)
C'era una volta un tempo in cui pensavi che nulla sarebbe mai cambiato, ma nella vita bisogna imparare a non dare le cose per scontate – nemmeno i favolosi dischi che hanno buttato fuori i nostri soci austriaci in quasi vent'anni di carriera. È triste sapere che gli Astpai si sono sciolti, ma non li avremmo mai fatti andare via senza un ultimo show in Italia! Parlando invece di prime volte, lasciateci dare il benvenuto ai Dead Bars per il loro primissimo show in Italia! Siamo entusiasti di portarveli direttamente da Seattle per il NoReason Fest 2. Il loro disco "Regulars" è fuori anche su NoReason Records e noi siamo già lì col ditino alzato per dare loro il benvenuto. Ecco un'altra bella band che siamo felici di vedere di nuovo: i Despite Everything! Gli amiconi greci sono davvero dei tipi ok e siamo contentissimi che siamo parte della nostra famiglia. Non vediamo l'ora di riaverli e scoprire cos'hanno combinato dopo aver compiuto i loro primi dieci anni. Mentre il 24 aprile le vedremo in versione soft e lenta, siamo sicuri che le Mobina Galore spaccheranno come sempre la sera del NoReason Fest 2. Il loro ultimo disco "Don't Worry" è un'altalena di emozioni e noi saremo fortunati di poterle vedere nuovamente in tutta la loro forma.
È passato un po' di tempo, ma i Low Dérive sono finalmente tornati! I nostri locals preferiti hanno passato un po' di tempo in sala prove e sappiamo bene che quando salgono sul palco è magia. Siamo felicissimi di averli al NoReason Fest 2 e siamo sicuri che saranno fuochi d'artificio. C'è sempre una buona scusa per invitare i nostri amici Cocks di Genova, e anche se non sempre ci portano la focaccia con loro sono sempre grandi abbracci e sorrisoni. Scherzi a parte, attendiamo con trepidazione il loro show, anche perché sta per uscire un nuovo EP da non perdere!
Come forse sapete, ai concerti più tosti ci piace alternare set acustici – non tanto come intermezzo tra uno show e l'altro, ma soprattutto per lasciarci ispirare dai numerosissimi cantautori di talento che ci piace chiamare complici in questa avventura. Diamo quindi il benvenuto all'artista inglese Tim Holehouse, la cui voce onesta e profonda ci accompagnerà attraverso le canzoni punk più blues che abbiate mai sentito – e al canadese più cool che ci sia in giro, Greg Rekus, che sta supportando il suo ultimo disco "Death and Taxes". I Six Impossibile Things sono un'altra realtà incredibile. Nicole e Lorenzo catturano da subito con le loro voci dolci e delicate e i SIT sono tra gli artisti più promettenti di questa scena italiana. Per continuare, siamo contenti di dare il benvenuto a uno dei romani più cool, Palm Down – una perla rara e anche un tizio molto simpa, che non guasta mai. Infine, non potremmo essere più felici di dare spazio al nostro duo washboard e chitarra preferito, i Menagramo. Sarà un'altra occasione per prendere confidenza con i super pezzi del loro nuovissimo "Ribcage" – e ci saranno presto novità ancora più interessanti per loro.
Per il momento è tutto. Nel frattempo vogliamo ringraziarvi per il supporto a NoReason Records e NoReason Booking e speriamo proprio di vedervi alla nostra grande festa! Abbraccioni
Lo Staff NoReason Records/ Booking