When the band started?
We started in 2010 I think. We've gone through a lot of drummers since. And two guitar players. But we've been lucky enough to play in several countries, see some cool shit and drink their alcohol.

Could you please tell us which are your main musical influences ?
When we first started we were definitely influenced by the Riverdales and Lillingtons. Now we're a bit more fluid with how we write songs. We don't really follow that Ramones Core structure anymore. A lot of bands do that style of music better than us anyway.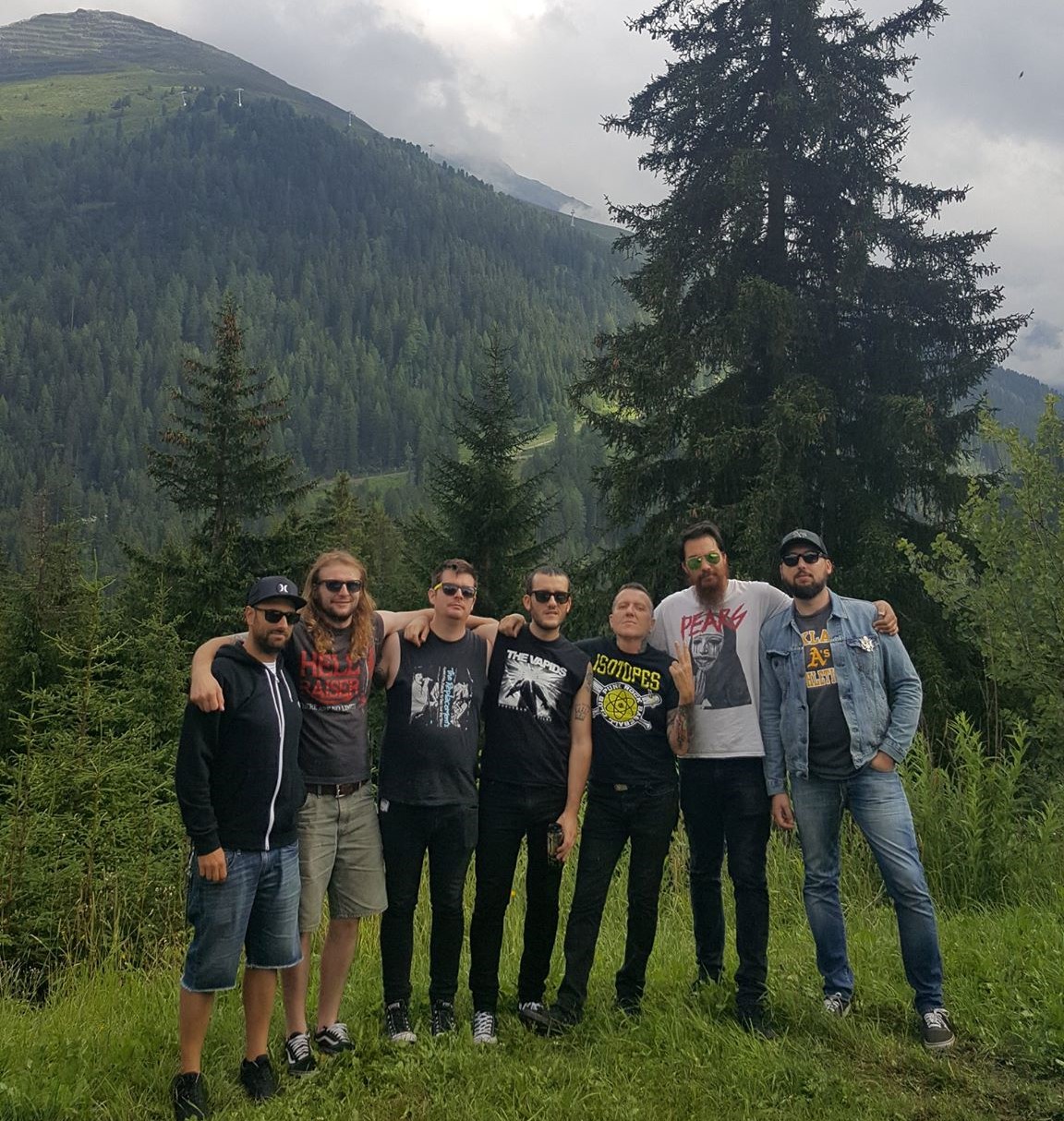 You played at PUNK ROCK Raduno in Bergamo in 2017. Im terribly sorry I must admit I've missed your set. How do you found playing @EDONE' in Bergamo and how was your Europe tour? Do you have some funny stories to tell us about?
You missed our set?! Haha, it's okay man. We were on pretty early in the day. That was a lot of fun. Endless beer, great bands and everyone is so friendly. We've done a few festivals but the Raduno is up there as one of the best. It's a different vibe than North America. Way more chill. I got pretty drunk on the last night and fell in a Rose Bush on the way back to the hotel and got cut up pretty bad. I have scars from that. As for the European tour, it was great. We definitely annoyed those Ratbones guys who we toured with. We got really hammered in Austria and woke up at the German Border with illicit substances on us. That sobered us up pretty quick. Luckily they didn't have the dogs out.

Do you like and do you want to tell us about other good bands from your area? You're from TORONTO right? Have you ever heard about Vincenzo Esposito? He's an Italian basketball. player that played in TORONTO RAPTORS around 1995, he was such a pioneer speaking about italian basketball!!
Toronto has definitely had some incredible bands. I'm proud of being from Toronto because of our music history is so rich. We're one of the pioneering place's for punk rock! Unfortunately a lot of my favorite bands from here have broken up, but Brutal Youth are probably my favorite and they're good friends of ours since day one. Teenage Head and the Vapids are incredible bands too, but they're not from Toronto. They're from the neighboring city called Hamilton. I've been to several Raptors games but I'm not Huge basketball fan so I'm not familiar with that player. The Raptors would have just started in 1995 and I was 12. I was too busy jacking off and listening to my shitty CD's.

CANADA is great for PUNK ROCK music, I'm thinking about CHIXDIGGIT, my favourite Canadian band, and PKEW PKEW PKEW..another great band i had the opportunity to see before the pandemic.
So what's the magic, the magic glue, that make Canada have so many great bands?
Funny story. I recently found a flyer where Pkew Pkew Pkew actually opened for us. But obviously they're very successful now as well as very nice dude's and a great band. We've played with Chixdiggit a few times too and they're also great guys. I love KJ. I always say he's the nicest guy in punk. He can tell you a story about me if you ever get a chance to talk to him. I don't know what it is about Canada. Maybe it's the long winter's. But Italy has some incredible bands, too so don't sell yourself short.

Which place do you like to play more? I mean when things will be ok again do you wonder about going on tour? Do you think about something to promote the new record?
I can't fucking wait to go back on tour. We had a tour with Lone Wolf through Canada but of course it got cancelled due to COVID. It's weird putting album out during a pandemic because there's no other way of promoting it besides online. We can't even play the new songs live. But we're very thankful Andrea from I Buy Records and John from Mom's Basement are helping us put this new album out. Hopefully we can tour America and Europe again. I love the unpredictability of touring other countries.

Do you know and do you listen to some bands from Italy?
Yes! Ratbones, Livermores (RIP Manu), Mega, Proton Packs, Teenage Bubblegums. The Ratbones and Jimmy Vapid have shown me a lot of great Italian bands and we've been fortunate to play with some of them.

Another question about Canadian bands..do you guys like the Weakerthans?
It's a band Ive see a couple of times live and that really impressed me alot. I can honestly say I haven't listened to them very much. I've seen them live once and think John Samson is a great song writer but never fully got into them. I really liked the era of Propaghandi when he was in the band still.

So speaking about your new album, could you tell us something more about the lyrics and the ideas behind it?
Lyrically I feel it's darker than any other album we've done. Jon, our bassist, called them depressing. But he's right. The songs I contributed are kind of depressing but there's also a bit of hope in there as well. I'm a depressed person so that's what you get. We're older now so it's more of a mature album. No joke songs it anything. It's our first album with Dennis Lee, our new drummer. I don't think he likes me very much but I like him.

Do you find yourself great playing as a TRIO?
We've been a 4 piece off and on but I am happy with being a trio. But at times I miss a second guitar covering up for my mistakes.


Last question..Do you have any message for your Italian fans?
We have Italian fans?! Well, I just want to say that we can't wait to go back there and we are probably going to hug and share a beer with every single one of you when this is all over and we can visit Italy again. Also, Italians are also the most attractive people in the world.

Thanks a lot for your time, please also If you'd like say something funny that you know in italian 🙂 We will mention it on the radio show for sure! 🙂
Thanks Tommi!
My Italian is terrible so when we were at Punk Rock Raduno the bartender wouldn't give me a beer until I pronounced it properly. We also call things that are cool "tight" in North America but in Italy you don't have an expression like that so we were calling things "stretto" which obviously makes no sense to anyone else in Italy but it was funny to us. We were definitely dumb tourists.