CLICK HERE FOR ENGLISH VERSION
Eccoci qui con un'altra bella intervista. Come probabilmente avrete già visto, negli ultimi mesi abbiamo intervistato tutte le band che hanno contribuito alla realizzazione di "Get Out Of My Club", è stato un passo dovuto quindi dare la parola a John, boss della Mom's Basement Records e ideatore del tributo. Buon divertimento Punk Rockers!
Ciao John, come stai?
Ciao! bene, tu come stai?
Bene come al solito, amico! Iniziamo dai! Allora, negli ultimi mesi entrambi abbiamo coordinato un grande progetto che discuteremo un po' più avanti, ma prima presentati ai nostri lettori. Chi sei?
Beh, mi chiamo John e gestisco una piccola etichetta qui negli Stati Uniti che si chiama Mom's Basement Records. Ho una figlia fantastica, una ragazza adorabile e un vecchio cane marcio. Per divertirmi mi piace bere birra e ascoltare dischi.
Come ti è venuta l'idea di gestire un'etichetta e come hai scelto il nome? Fai tutto da solo?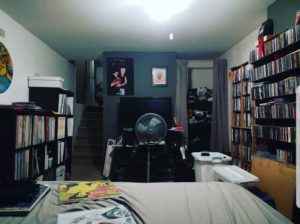 Erano anni che volevo creare un'etichetta, una volta che è iniziata l'attività della Eccentric Pop Records e ha iniziato a pubblicare tutti questi incredibili dischi ho trovato l'ispirazione per provare a fornire il mio contributo alla mia scena punk rock. Per fortuna, il ragazzo che gestisce l'Eccentric Pop è molto simpatico e mi ha insegnato molto cose su come bisogna gestire un'etichetta indipendente. Non l'avrei fatto senza tutto il suo aiuto, gli devo davvero molto.
Ho scelto il nome Mom's Basement Records perchè ho passato un sacco di tempo durante l'adolescenza e in parte anche da adulto giù in quella cantina. Inoltre tutto il "discorso basement" con i punx… aveva senso.
La mia ragazza mi aiuta con l'etichetta in molti modi, mi supporta ed è di grande aiuto.
Dovendo dare un consiglio a qualcuno interessato ad iniziare un'etichetta, cosa suggeriresti?
Non farlo! Scherzo, la prima cosa da fare è risparmiare un sacco di soldi e trovare una o due band che ci credono. Dopo prepari un bell' assegno e inizia ad aspettare con impazienza che l'azienda che si occupa della stampa completi i tuoi lavori sperando che non ci metta l'eternità!
Come scegli le bande che vuoi facciano parte della tua etichetta?
Lavoro solamente con gruppi che personalmente mi piacciono e in cui credo. Non mi interessa cosa fanno le altre etichette e non prenderò mai una band in cui non credo. Haha non ho molto senso degli affari, vero?
Guardando le produzioni di Mom's Basement Records noto che ci sono molte band europee (molte italiane!). Prima di conoscerti meglio, ho pensato "Questo ragazzo è pazzo" ma durante le nostre chiacchierate alla fine ho capito che questo "business" (ahahahaha) funziona. Ho ragione?
Si! Amo molte band europee! Ragazzi, state facendo un bel lavoro laggiù. Uno dei motivi principali per cui ho fondato un'etichetta discografica è stato quello dicontribuire a portare la scena punk rock europea sotto i riflettori un po' di più qui negli Stati Uniti. Certo, tutti quelli a cui piace questo tipo di musica hanno sentito parlare degli Apers o dei Manges, ma ci sono moltissime altre band che potrebbero essere trascurate perchè senza promozione o senza passaparola.
Continuando sullo stesso argomento, alcuni punk rockers europei pensano che gli Stati Uniti siano "l'eldorado", mentre alcuni punk rockers americani pensano che la scena europea sia decisamente migliore. Qual è la verità? È nel mezzo o semplicemente non si è mai felice di quello già si ha?
Non so se posso dire se una scena è meglio dell'altra, ma ti posso dire che in Europa c'è il culto dei Ramones al pari di una religione e io sono un grande fan di questo genere di cose !!! Entrambe le scene hanno comunque tantissime grandi band.
Uno dei tuoi progetti attualmente in corso è Passport Series, fondamentalmente si tratta di uno split 7″ tra una band europea e una statunitense. Vorresti parlarne un po'?
Si! La passport split series è un'idea che ho rubato a un po' di etichette che hanno tentato di fare questo genere di cose già in passato. Una cosa tipo USA contro Europa. Penso ad esempio allo split Stinking Polecats/Fairlanes o quello Zatopeks/Copyrights (che sono i primi che mi vengono in mente): entrambi sono due split fantastici, ma l'idea è un po' svanita. Volevo provare a fare le cose in modo un po' diverso, così ho iniziato la serie passport split. Finora ha riguardato USA/Europa, ma non sarà sempre così, potrebbe essere una cosa Europa/Canada o qualsiasi altra combinazione. È la stessa vecchia idea di prima, tranne che ho intenzione di farla continuare cerccando di lavorare con altre band internazionali di altri paesi. Passport vol.3 uscirà all'inizio dell'estate e il vol.4 all'inizio dell'inverno di quest'anno.
Le domande precedenti servivano per introdurre il tuo ultimo grande progetto – "Get Out Of My Club" – pubblicato appena qualche giorno fa. Nessuno in Europa ha mai pensato prima di Mom's Basement Records di mettere in piedi un tributo ai Manges, probabilmente il più influente gruppo punk rock europeo. Come ti è venuta in mente questa idea?
Amo i tributi. Il Tributo ai Groovie Ghoulies e quello agli Apers sono molto belli e sono proprio quelli che mi hanno spinto a volerne fare uno. Ho scelto i Manges perchè sono tra le mie band preferite e non si può negare quanto siano importanti per la scena punk rock in tutto il mondo. Lo hanno fatto per oltre 20 anni e grazie a loro sono nati moltissimi gruppi da voi in Italia. Si era proprio in ritardo per un giusto tributo!!!
In questo momento non suoni con nessuno, ma vorrei farti le stesse domande che ho fatto a tutte le band che hanno aderito al tributo. Cosa significano i Manges per te? Se tu fossi in una band, quale canzone avresti scelto da coverizzare?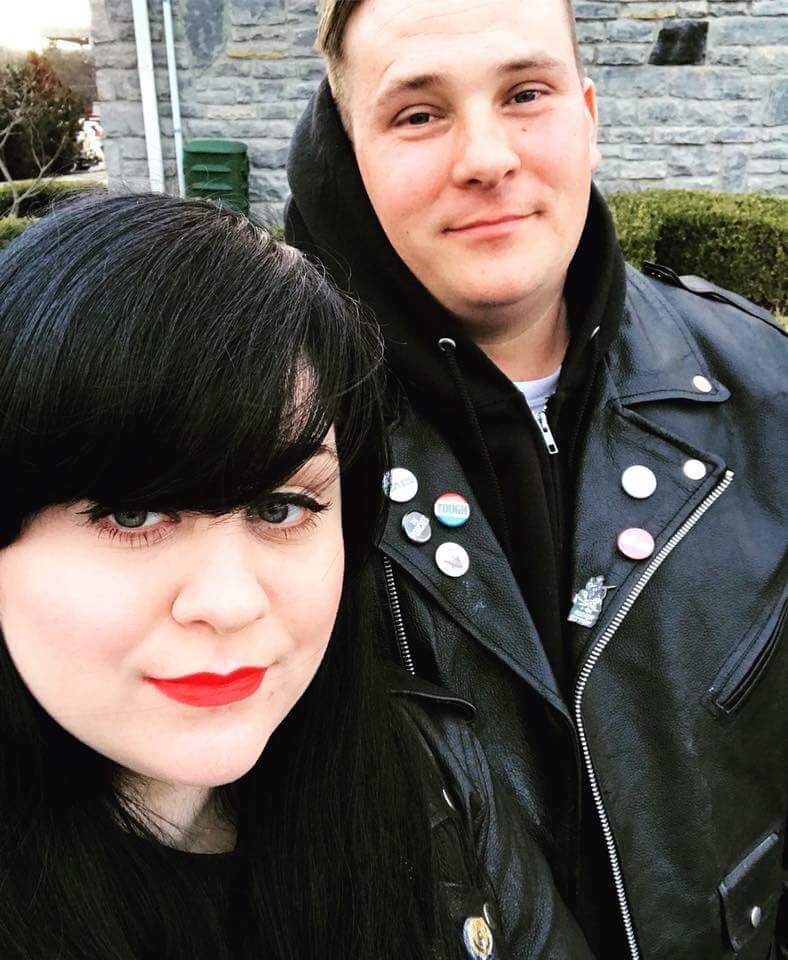 I Manges sono una delle mie band punk rock preferite di tutti i tempi, pochissime band sono riuscite a prendermi come loro. Sono una delle band più importanti in questa scena. Hanno aiutato a introdurre la scena europea a un sacco di persone qui negli Stati Uniti.
Di tanto in tanto suono in una cover band, abbiamo persino iniziato a scrivere qualche nostro brano ma dopo che ho divorziato è diventato più difficile per me andare a fare le prove e seguire il gruppo, così ogni tanto capita che siamo costretti a fare un concerto quando una band non può suonare a uno degli show che organizzo.
Una cosa buona è che gli altri due che suonano con me sono davvero degli ottimi musicisti. Tengo al minimo il volume del mio basso e cerco di tenere il tempo. Ora che ho finito con le informazioni inutili, ti dico che suoniamo alcune canzoni dei Manges, una è "Get Out Of My Club", quindi credo avremmo scelto quella!
Noi punk rockers italiani siamo quasi monotematici: praticamente parliamo e fantastichiamo tutto l'anno sul Punk Rock Raduno. C'è sempre un alto livello di eccitazione che circonda questo festival… so che arriverai dagli Stati Uniti per una vacanza in Italia ma soprattutto per unirvi all'armata del Raduno. Sei più gasato per la Pizza e la Pasta o per il Punk Rock Raduno? Quali sono le tue aspettative al riguardo?
Sono veramente impaziente di venire in Italia. Mi gasa l'idea di vedere tante cose e mangiare un sacco di buon cibo, ma in particolare non vedo l'ora che inizi il Punk Rock Raduno. Non vedo l'ora di incontrare tutti i miei amici internazionali di internet e rivedere alcuni di loro che ho già incontrato. Mi aspetto che grazie a tutte le band che hanno già annunciato sarà uno dei migliori festival punk rock a cui abbia mai partecipato. Suoneranno i Windowsill, cazzo. Cosa devo dire più?
Parliamo della tua collezione di dischi. Per favore, elencami:
La TOP 3 dei tuoi dischi
Almeno, un disco che pensi faccia schifo così tanto che ti vergogni di averlo in mezzo alla tua collezione. Non vediamo l'ora di prenderti in giro!
3 dischi che stai cercando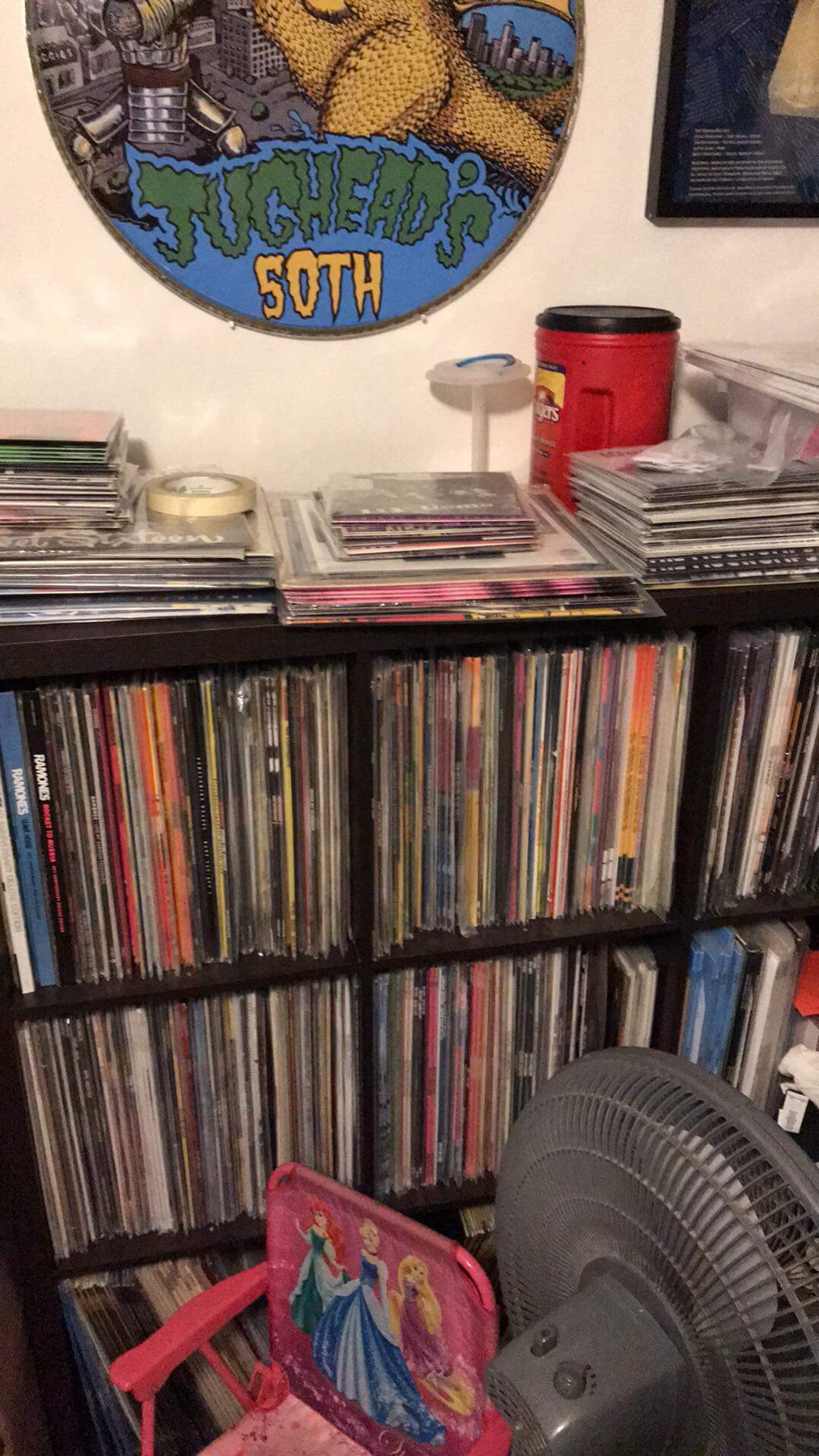 Non potrei mai scegliere i miei primi 3 dischi! Se dovessi scegliere, direi semplicemente i primi 3 album dei Ramones. Non so se possiedo un disco di cui mi vergogno, sicuramente ho qualche schifezza, dischi che ho ricevuto per scherzo da amici e cose che sono particolarmente orribili.
Mi viene in mente "Chipmunk punk". È Alvin dei Chipmunks che coverizza "canzoni punk rock" che difficilmente possono essere considerate proprio canzoni punk rock.
Sono un vero e proprio nerd appassionato di per alcune band/etichette che mi piacciono. Se dovessi scegliere 3 dischi che sto cercando disperatamente ti direi:
Groovie Ghoulies/Spazzys/Mach Pelican split – Cake Sprit 7"
Screeching Weasel – Ramones LP (Tour Edition)
Beatnik Termites – S/T EP
Abbbiamo Sempre fatto una domanda riguardo ai Ramones a tutti quelli che intervistiamo, quindi ora è il tuo momento. Cosa ricordi della prima volta che hai sentito una loro canzone? Cosa hai pensato in quel momento?
Non riesco a ricordare la prima volta che effettivamente ho ascoltato i Ramones, li passavano in radio da prima che io possa ricordare, ma ricordo bene la prima volta che mi hanno colpito davvero. Come tutte le band punk rock che ho ascoltato in periodo pre-adolescenziale, è stato attraverso i video di skateboard che ho sentito "I Wanna Live" credo che si trattasse di uno di quei video dove si fa il "salta da un edificio" o qualcosa del genere. Ricordo di aver pensato, "Cazzo, devo approfondire un po' di più su questa band, poi mi sono diretto da Rainbow Records che erano a circa un miglio di distanza da casa mia e ho comprato Ramonesmania su CD. Il resto è storia o qualcosa del genere.
Penso che abbiamo detto tutto, dai. Qualche richiesta da fare? Adesso è il tuo momento! Ci vediamo questa estate a Bergamo al Punk Rock Raduno!! Gabba Gabba
Sì, vorrei chiedere a tutte le fantastiche band italiane che non suoneranno al Punk Rock Raduno di fare uno show privato per noi a Milano, non ci sarà alcun rimborso e farò le riprese dell'intero spettacolo senza il loro permesso. È una possibilità e se è così, facciamolo accadere, dai. Oh e i Ratbones devono fare un set dei loro greatest hits.