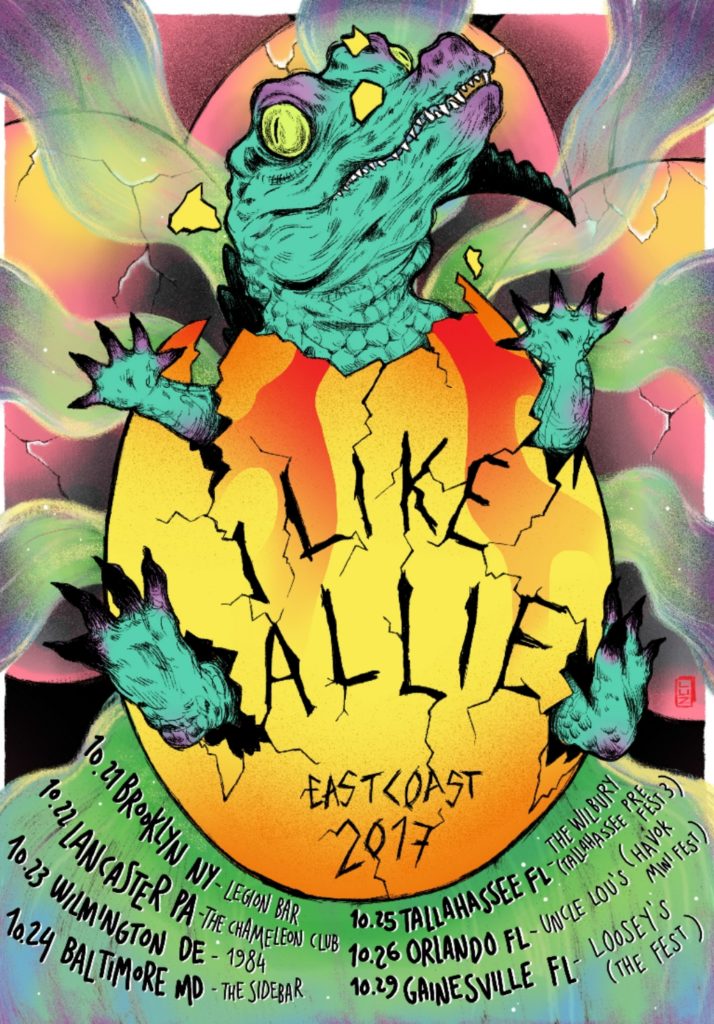 Clicca qui per Traduzione in Italiano
Hi guys, great to have you here for a chat. So let's get things started, who is/are I Like Allie? Why this name?
I Like Allie started off as my acoustic project that I soon wanted to transform into a real band. This happened only with the arrival of Gio, Fra, Sandro and, after Sandro's departure, Luca. I Like Allie's focus now is being a full electric rock band, even though I still do some occasional acoustic sets, recently also with Luca. The name of the band is a sentence of a book that I loved growing up. For me it means appreciating things in life only when you lost them.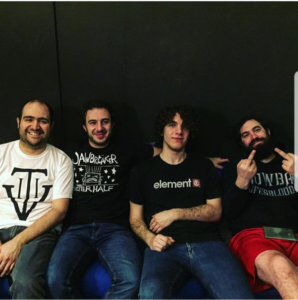 Based on memory, the first acoustic concert as I Like Allie was 3 years ago, one of the first IBR Nights, from then on you played shows almost anywhere, are you happy with what you have accomplished until now?
Actually, the first show as I Like Allie was in September 2006 at the Dauntaun opening for Defiance, Ohio. Back then I played with I Like Allie alumnus, Michele Caiati. But that IBR Night you're talking about was one of my first solo acoustic sets. And it was after one of those sets that I met Fra who really made our band click in the practice space. I'm very happy. Especially for this new phase of the band. The shows we played last spring/summer, like the ones in Turin, Genova and Rome were awesome. Playing shows in different cities was always something we wanted to do.
2016 is the year of your debut record "The Wounds You Leave", that IBR proudly helped release. Talk to us a bit about the record!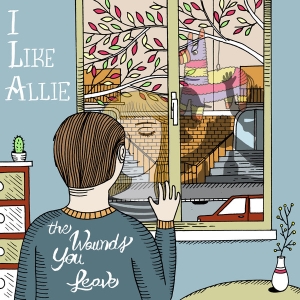 I always wanted to play with Gio, our drummer and my friend since high school when he would come by to see my old band practice. When I came back from studying in California, I had written Personal Politics and Guerrero. So I thought these songs could be a good starting point for us to work on. My idea was to put out a 7 inch and that would have been enough. But then I left for 2 years so things didn't take off. When I returned to Milan I tried to go at it again but with the idea of transforming I Like Allie into a full band. We met up and worked on Forever Gone. After not much Fra joined us and we started working on Personal Politics and Guerrero. Finally with Sandro in the mix we put together Wine and Nemesi. We had five songs so we thought it was time to record them and that's how The Wounds You Leave came about.
Now, since you know that we tend to prefer over here a kind of sound that is "different" from what you guys do, what do you think made us decide to put out your record?
So this is the part where can brag about about how cool we are? HAHA. Kidding. Well besides the fact that we're super nice (?!), I would say our attitude. We're always at shows, Ramonescore, Mazzacore, Sandrocore, metal, indie, whatever. All this support of the scene and finding out about new bands is very punk rock 🙂 Did I get it?
Let's talk about nice things, amazing things, FEST 16. This year you're one of the few Italian acts playing there, together with Red Car Burns and Dags! Ready to represent Italy?
We hope so. But more than ready, really excited to be a part of the best punk rock party of the year.
Tell us how this opportunity came about!
Our record came out digitally on Paper+Plastick that's run by Vinnie of Less Than Jake and is based in Gainesville which is also where The Fest takes place. Vinnie was kind enough to put us in touch with The Fest organizers. Still can't believe it's happening.
Before playing FEST16 you're embarking on a mini-tour in the US. Where will you be playing? What do you expect?
We're playing 6 shows starting off in Brooklyn and then passing through Maryland to end up in Florida where we're playing a couple of pre fest shows with our good friends Red Car Burns. Honestly we have no idea of how the shows will be. Our goal is to have fun and play the best we can hoping to make new friends and that the people that check out our set have a good time.
Name three records where your reaction was: "Damn! I would really love to be make a record like this"
One of the cool things about our band is that, even if we all love punk rock and independent music in general, we still have very different tastes. This makes arranging songs all the more interesting. Luca is the one that's the most emo-oriented, Gio tends to prefer more aggressive bands, while Fra and I are the ones that gravitate the most around punk rock even though I grew up listening mostly to bands on Fat Wreck Chords while Fra started out in the Lookout Records realm.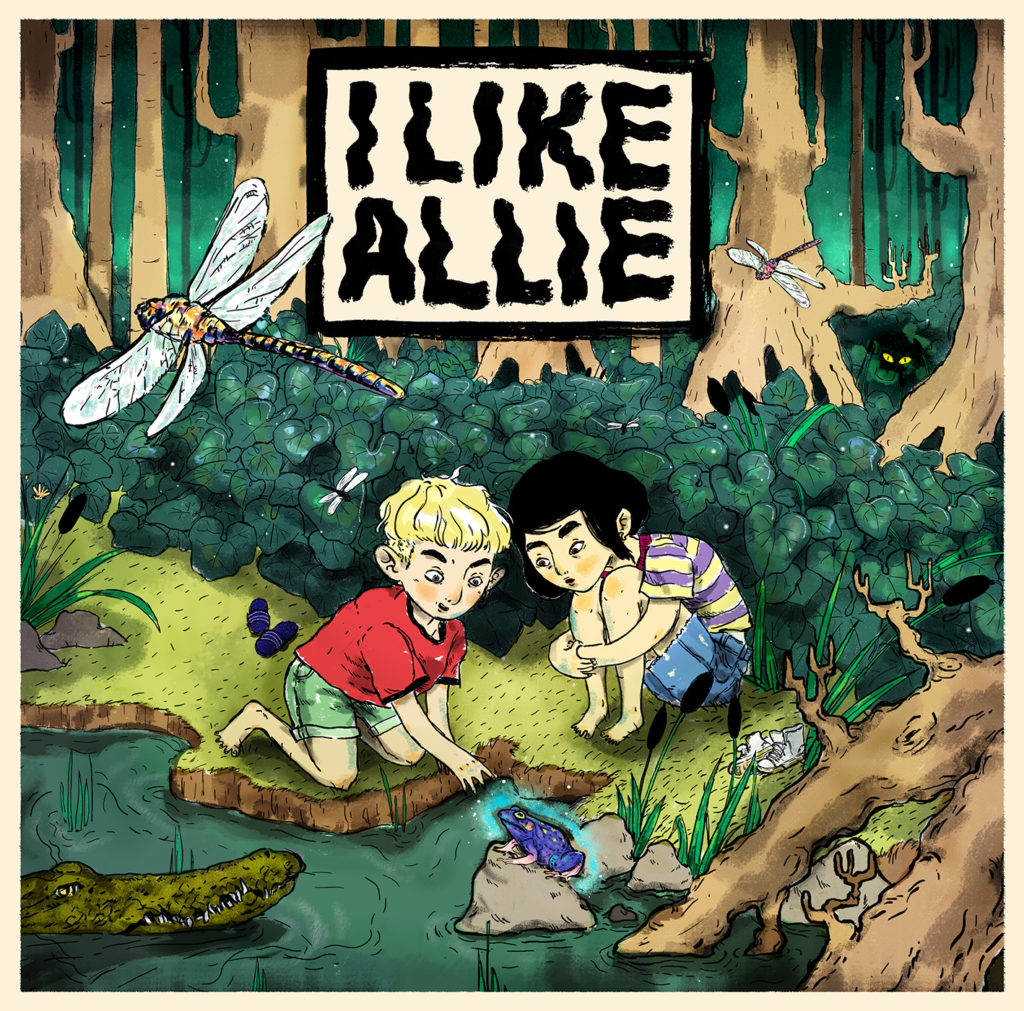 Choosing only 3 records is hard but if I have to I would say:
Lagwagon – Let's Talk About Feelings: bought at my local record store Mariposa in 1999 after seeing Lagwagon for the first time. I chose this one at the time because it was slightly cheaper than the others. My love for Joey Cape started here. Amazing melodies and lyrics that still hold up.
The Lawrence Arms -The Greatest Story Ever Told: I love bands with two songwriters with different styles but that complement each other perfectly. This record is a great example of all this. It's one of the few times in which a band makes exactly the record I hoped for. Zero let downs. Plus I thought that the footnotes explaining certain lyrics were a really cool treat.
Joyce Manor – Never Hungover Again: of the records that came out over the recent years this could be the one that blew me away the most. It sounds amazing and the band never overuses any idea. It's spontaneous, simple and I never get tired of it.
I'll leave you now with Gio, Fra and Luca who all have different opinions.
GIO
Converge – Jane Doe: Chaos unleashed, yet emotional and deep. Plus, Ben Koller is probably my favorite drummer ever.
Neurosis – Through Silver in Blood: basically that's how the apocalypse sounds like. 'nuff said.
Majority Rule – Interviews With David Frost: this is an album I grew up with and for me maybe the definition of post hardcore itself. Can't wait to see them at Fest.
FRA
The Clash – London Calling: A rock'n'roll masterpiece. Even if I'm definitely more into The Ramones, it's beyond doubt that The Clash have always pushed forward their songwriting never settling in a genre. This record is absolutely stunning!
Screeching Weasel – My Brain Hurts: This is exactly what real pop-punk is for me. From start to finish My Brain Hurts is full of punk rhythms, incredibly smart lyrics, great hooks and melodies.
Nirvana – Bleach: Nirvana's debut album always fascinated me. It's raw, but at the same time you can find great pop melodies. It's like a Royal Rumble between Black Flag, Husker Du and The Beatles. Probably not their best record, but the definitely my favorite.
LUCA
Brand New – The Devil and God are Raging Inside Me: it's my favorite album of all time. Lyrically and composition-wise I consider it a masterpiece that made me fall in love with Brand New.
Jimmy Eat World – Bleed American: I think this record can be considered the perfect album for sound, arrangements and catchiness of its tracks.
Turnover – Peripheral Vision: One of my favorites of the recent years. It fascinated me from the first time i listened to it for the atmosphere it is able to create.
Ok our time has come to an end but before saying goodbye could you let us know what is next for I Like Allie?
Real Ghost Records and Punisher Records released for us on October 23 a cassette tape that includes all the songs we've done so far plus two brand new acoustic tracks that will also come out as a digital single entitled "The Tuesday Sessions". We plan on playing some shows in support of this release once we come back to Europe and after that our main goal will be to continue working on new material for our next release.
Thank you for your time!!
Thank you! It was fun!