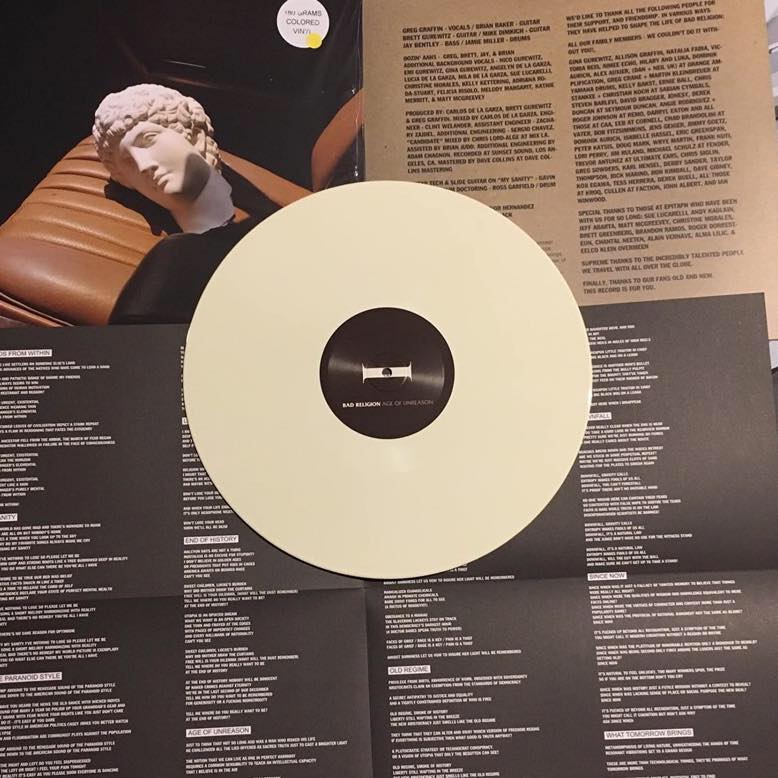 Bad Religion, L'epoca dell'irragionevolezza, quella in cui viviamo. Togliamoci subito via No Control e Suffer: l'album nuovo non è né l'uno né l'altro, sono passati 30 anni e più da quei due pilastri e non avrebbe alcun senso una replica. Se volete quelli ascoltate quelli. I Bad Religion si sono sempre dimostrati padroni assoluti della melodia, delle "ballate punkrock" fin dagli inizi, hanno sempre preso il meglio da altri generi (folk, pop, rock – accelerandoli) e l'hanno convogliato nel contenitore del loro personalissimo punkrock, questo già da Generator in poi.
In copertina la testa spezzata di una statua classica, a bordo di un auto. I tempi moderni che dimenticano il passato, lo denigrano, non lo rispettano, scordano la storia è gli errori già commessi.
E ora pezzo per pezzo, come si deve ad una band che è arrivata al diciassettesimo (!) album in studio senza perdere la voglia, le idee, il divertimento e la genialità. E nemmeno la velocità. In questo album c'è tutto e c'è un po' di ogni loro precedente album.
---
Chaos from Within – La bomba di inizio disco, una legnata sulla scia di Sinister Rouge, The Day That the Earth Stalled, 52 Seconds, Change of Ideas. Un ritornello folle, il classico pezzo con cui aprire i concerti e il pubblico impazzisce. E come potrebbe non farlo?
My Sanity – Il pezzo che i Bad Religion sanno fare, sembra molto melodico ma sotto la batteria ti picchia e non te ne rendi conto. Testo emozionante, menzione speciale per la strofa da brividi "There comes a time when you look up to the sky and ask why do my favorite songs always make me cry?". Cuori in alto e lacrimoni.
Do the Paranoid Style – Che suoni hanno utilizzato in questo lampo di follia? Cori fuori di testa, un ritmo nervoso e serrato con un testo dedicato a complottisti e paranoici. Direttamente dai primi anni 80, meravigliosamente inquietante.
The Approach – "Classico" pezzo da Bad Religion: melodia e assoli che si fondono perfettamente. Il testo è buona parte della loro filosofia, la visione pessimistica che ci ricorda "Nonostante tutte le illusioni ci avviciniamo all'ora più buia".
Lose Your Head – Pop ragazzi. Questo è un pezzo pop degli anni '80, senza scherzare. Qui ci sono i Buzzcocks e i Boys e i 999 e l'anima pop del Dr. Graffin si manifesta senza alcun pudore. Ed è subito Top of the pops!
End of History – Ascoltare il ritornello di questo pezzo con cori, controcori, seconde voci: c'è tutto quello che deve esserci in una canzone, una di quelle che ti resta in testa per sempre. Il testo è un'accusa affilata e diretta a chi sta distruggendo e insozzando senza nemmeno pensare a cosa resterà di lui "alla fine della storia".
Age of Unreason – La title track è apocalittica. Questa canzone in pochi potrebbero scriverla e suonarla, un altro pezzo 100% Bad Religion, con picchi melodici che ricordano uno dei loro pezzi più belli di sempre (Skyscraper).
"But I, as a child who plays for fun with his eye up to the barrel of a gun watch the fools believe as one in this unrepentant age of unreason". E' o non è, una poesia punkrock?
Candidate – Qui sta tutto il nuovo album dei nostri. Questo pezzo è NUOVO. Questa non si era mai sentita prima, un inizio sporco, ruvido, solo voce e chitarra acustica, da suonare giù in un angolo buio della metro. Poi si trasforma e parte la ballata, gli assoli di Baker sono magici, il testo è una sputo in faccia al politico finto, l'emblema dello schifo con il makeup in faccia dietro cui nascondere l'ipocrisia.
Faces of Grief – BOOOOOM! Volete No Control? Ecco, questa è caduta dritta fuori da quell'album, tra una Big Bang e una Henchman ed è una granata dritta sugli incisivi. Il basso di Jay qui è pazzia pura, in primo piano come in un pezzo dei Descendents.
Old Regime – Si torna al classico suono, pezzo politico ("La nuova aristocrazia puzza proprio come il vecchio regime") con melodie killer della coppia d'oro Brett e Greg, cattiveria & cori come un temporale estivo.
Big Black Dog – Fino al ritornello sembra "The Empire Strikes First" – proprio la canzone, non l'omonimo album-. Chitarrone super rock, cani che abbaiano e un testo che è un'altra pugnalata allo schifo odierno ("I maiali devono nutrirsi della loro fetta di pancetta"). Finale bizzarro con un coretto ripetuto con seconda voce femminile che resta fisso nelle orecchie.
Downfall – Anche questo è un pezzo "nuovo", che non si era mai sentito. Hand-clapping, effettini elettronici per una melodia radiofonica, un singolone che potrebbe piacere anche alle mamme dei punkrockers più brutti. Adorabile, ma non per tutti.
Since Now – Poco più di un minuto e mezzo per questa penultima traccia, veloce, divertente, da dito indice alzato, un bel ritmo. Con questa in auto alzi il volume a palla e acceleri.
What Tomorrow Brings – Così come Chaos from Within è un inizio classico (veloce) questa è la classica chiusura emozionante e che riporta un po' di speranza all'animo di ascolta, dolce ma veloce, sulla stessa scia di pezzi come Live Again (The Fall of Man), Fields of Mars, In So Many Ways, Changing Tide. Il giusto finale per un album che ha tantissimo da dire, pieno zeppo di idee e su cui riflettere a lungo.
Grazie ragazzi per le emozioni che trasmettete. Ancora. Dopo 40 anni.
"Yeah, they're promises of what tomorrow brings"…