Horn Ok Please, Commando Records & Palombaro Productions presentano:

▲Lobotomy Fest @ Corte dei Miracoli▲
Due giorni di concerti Punk Rock all'ex Ospedale Psichiatrico!
Una due giorni frenetica e divertente riempirà la Corte dei Miracoli con tanto spirito Punk Rock. Questa volta Horn Ok Please si è avvalsa della valida collaborazione di Commando Records e Palombaro Productions per mettere su il main event della primavera musicale senese. 7 band, 2 dj e tanti eventi collaterali impreziosiranno la prima edizione del Lobotomy Fest!!! Venerdì 12 e Sabato 13, dalle 22 a tarda notte la musica la farà da padrone ma aspettatevi tante altre sorprese!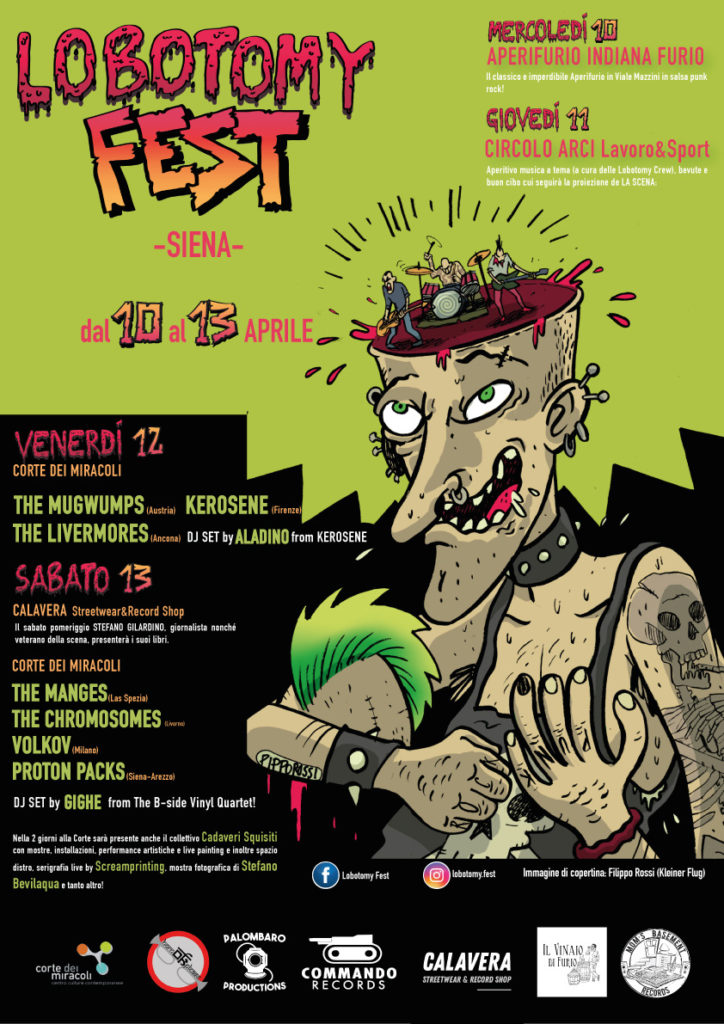 <><><>VENERDI 12/04<><><>
The Livermores ( Ancona) >> uno dei combo più richiesti ultimamente nei festival punk rock di tutta europa! 1-2-3-4 mentality!
Kerosene (Firenze) >> una colonna portante del punk rock anni '90! Altamente esplosivi!
The Mugwumps (Austria) >> veloci come proiettili e dolci come un milkshake alla vaniglia, stanno seminando il panico tra gli amanti dei Ramones! Banana brains!
DJ SET by Aladino from Kerosene!
<><><>SABATO 13/04<><><>
Proton Packs (Siena/Arezzo) >> Punk rock a base di spionaggio e fantascienza! Ecto-Punk!
Volkov (Milano) >> Ex agenti segreti sovietici in missione per conto dei Ramones! обращаться с осторожностью!
The Chromosomes (Livorno) >> Un piede sul surf e l'altro sull'acceleratore! Punk rock legends!
The Manges (Las*Pezia) >> I veterani del punk rock italico, una garanzia dal 1993! What are you looking at, dicknose?!

DJ SET by Gighe from The B-side Vinyl Quartet!
—————————————-
INGRESSO SINGOLA SERATA 5 €, ABBONAMENTO 8 €
Riservato ai soci CdM, possibilità di tesserarsi direttamente la sera del concerto
POWERED BY
Horn Ok Please
Commando Records
Palombaro Productions